Reduce the Appearance of Cellulite with ThermiSmooth Body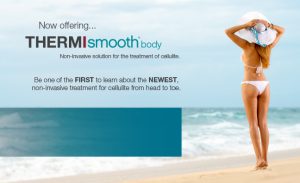 Everyone wants smooth, supple skin and there are few things that can cause a dip in confidence quite like cellulite. Although completely harmless and very common—estimates indicate that up to 85% of women have cellulite—it can lead to shyness or being self-conscious about exposing certain areas. But, it does not have to be a fact of life. ThermiSmooth Body is a new and powerful cellulite reduction treatment that targets the weakened areas under the skin that lead to dimpling.
Cellulite Removal Therapy
Cellulite occurs when small pockets of fat protrude through the connective tissues under the skin, causing honeycomb shaped dimpling. ThermiSmooth Body is designed to dramatically reduce cellulite and provide body slimming results. Harnessing the power of radiofrequency to penetrate deep into skin, ThermiSmooth Body only requires four treatments to see visible results. Most patients see results in just six to eight weeks as the body renews its collagen stores.
Dr. van Aardt is the first both in Halifax and Nova Scotia to offer this amazing treatment option, which works on the face (including cheeks, eyes, mouth and neck), the chest, decollete and arms, abdomen and back, thighs, hips, buttocks, as well as the knees, calves and ankles.
Non-Surgical Cellulite Treatment
A non-surgical alternative to other cellulite removal treatments, ThermiSmooth Body encourages the body to stimulate the production of more collagen. Collagen is the protein in skin and connective tissues that helps keep skin looking firm and smooth, but it naturally diminishes as we age. By stimulating the body to produce more of this key protein, the result is that, over time and throughout the course of treatment, skin appears tighter.
Typical treatment with ThermiSmooth Body involves four to six sessions in our convenient central Halifax location. No downtime is required, and you can return to your normal activities right after the procedure. This gentle therapy feels like a warm massage, and many of our patients find it to be very relaxing.
Schedule your complimentary consultation with Dr. van Aardt today.